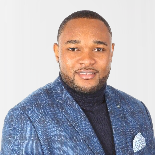 Faith Biyapo - Regional Manager, Black Community Business Development
Greater Toronto Area
Email or call to book an appointment
Black Community Business Development
As a Regional Manager, Black Community Business Development, my primary role is to serve as a trusted liaison between TD and the Black Community. In addition to my deep understanding of the community itself and passion for financial education, I rely on my ability to develop strong relationships with its members in order to fully discover their financial needs and goals. I am fortunate to have the opportunity to work closely with a wide range of talented colleagues from multiple lines of business, including Personal Banking, Business Banking and in TD Wealth, who help provide our Black clients with the financial advice and the service they deserve. Outside of working hours, I stay engaged with the community at large by supporting and volunteering with local grass roots organizations.
Get in Touch
As you begin working with us, I will take you through a deep discovery process to understand your needs and connect you with a core team of TD specialists with expertise in everything from real estate investment, investment solutions, retirement planning, estate and trust planning, as well as philanthropic giving, to business expansion, succession and tax planning. Dedication to legendary client experiences and innovative financial strategies are the foundations of what TD Wealth has to offer.

The heart of this role lies with the people I work with and the relationships I have built over many years. I believe success will be achieved because of my level of dedication, passion and commitment to ensuring that the Black community with the collaboration of TD Bank has the support needed to thrive.
I'm here to help you with
Small business accounts

TD small business accounts offer a host of features and benefits to help you manage and grow your business.

Credit Cards

TD offers a comprehensive product suite to help meet your business needs. Find the best TD Business Credit Card for your business.

Cheque deposit solutions

We're committed to finding innovative ways to help you move your business forward.

Cash flow solutions

The right cash flow strategies can go a long way to helping your business succeed.

Credit solutions

Choose from several business borrowing solutions for expenses, financing assets, and protection against the unexpected.